Description
Behalten Sie Ihr Raspberry Pi 3 Model B+ oder Raspberry Pi Zero W kühl mit diesem hochwertigen Aluminium Raspberry Pi Kühlkörper mit selbstklebender Wärmeschicht. Schützen Sie Ihren Raspberry Pi vor Überhitzung!
Warum kaufen?
> Reduziert das Risiko von Hardwareausfällen durch Überhitzung
> Geringes Profil, passt in die meisten Gehäuse.
> Einfache, passive Kühlung. Keine Notwendigkeit für laute Lüfter.
> Perfekt dimensioniert für die CPU des RPi

Spezifikationen
> Größe 13mm x 13mm x 6mm (H x B x T)
> Wärmewiderstand von 27°C/W
> Selbstklebende Wärmeschicht für einfache Anwendung
Bitte beachten Sie, dass es sich bei diesem Angebot um einen einzelnen, hochwertigen Raspberry Pi-Kühlkörper handelt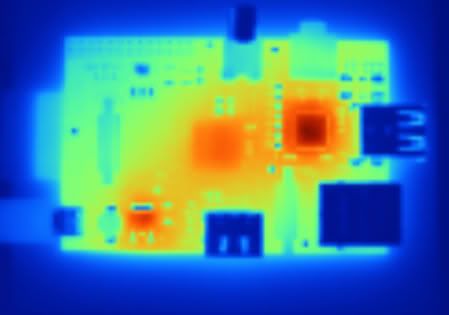 English Description
Keep your Raspberry Pi 3 Model B+ or Raspberry Pi Zero W cool with this quality aluminium Raspberry Pi heatsink with adhesive thermal layer. Protect your Raspberry Pi from overheating!
Why Buy?
> Reduces the risk of hardware failure due to overheating
> Low profile, will fit into most cases.
> Simple, Passive cooling. No need for noisy fans.
> Perfectly sized for the RPi's CPU

Specs
> Size 13mm x 13mm x 6mm (H x W x D)
> Thermal resistance of 27°C/W
> Self-adhesive thermal layer for easy application
Please note that this listing is for a single, high quality Raspberry Pi heatsink